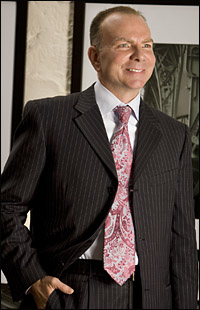 Education:
J.D. 1992, University of Oklahoma, College of Law
B.B.A. 1985, University of Oklahoma
Memberships:
Oklahoma Bar Association
Mineral Law Section, Oklahoma Bar Association
Association of Energy Service Companies
Recent Seminars Attended:
Enforcement of Judgments (June 2010)
Real Estate Law (May 2010)
Legal Issues in Construction Law (April 2010)
Drafting Clear and Enforceable Contracts (March 2010)
Natural Resources Law and Policy (November 2009)
Oil and Gas Law (April 2009)
Environmental Law (April 2009)
Relevant Experience:
Experienced at recovering money owed and fashioning favorable terms for clients.
Negotiated hundreds of agreements with the largest law firms in the world.
Long history in the oil and gas field, beginning with a Landman position in 1982.
Numerous presentations to judges and lawyers, including a 2007 presentation to the New York University Appellate Judges Seminar.
Guiding Principles:
Advocate aggressively for clients
Maintain the highest degree of professionalism and integrity
Ensure the utmost privacy for clients
Communicate often and openly with the client
Fast turnaround
Additional Writings by Gary Quinnett:
Oklahoma Wind Energy Newsletter
Surface Owner's Rights: Oil and Gas Exploration
Mineral Owner's Audit: Checklist
Avoiding Liability for Environmental Damages